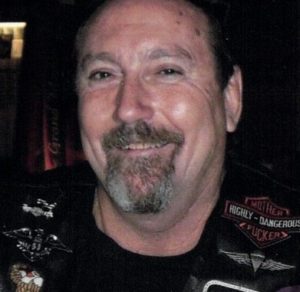 Ronald David Helms was born on October 16, 1955 in Roswell, New Mexico to Olen Helms and Mabel Hynes. He died June 20, 2022 at his home after a long battle of liver disease.
Ron was raised by his grandmother until age 6. He was then put into foster care. His last placement was with Blanche and Steve Stephens. Steve taught him the love of Harley Davidson motorcycles.
Ron joined the 82nd Airborne and spent 4 years serving our country.
Ron received his bachelor's degree from Baylor University. He received many licenses for Irrigation and Business Management courses through Houston Community College, and Budgeting and Financial Management from U of Texas Arlington. He worked in corporate America for many years before starting his true passion of Landscape and Irrigation. He owned his own company as well as working for others. His last employer was Gold Landscape for 10 years in Dallas, Texas. He was a licensed Landscape/Irrigation Architect. This job was his passion. He helped grow this company to what it is today.
Ron loved to ride his Harley Davidson, listening to classic rock & roll, hanging out with his friends, having bon fires, playing Texas Hold 'Em and poker games.
Ron had a free spirit, was rough on the edges but a heart of gold if you earned entrance to his heart.
Ron is survived by his girlfriend, Christine Floren; many dear friends: Lewis Moore and family, Aaron Goldstein, Emillio Sessa, Tim Frosch Sr., Jose Merano to name a few.
Ron is preceded in death by his grandmother; Cheyenne Moore his "adopted" niece; and many friends including his best friend Alfredo and Theresa.
Memorials may be given in Ron's memory to Seasons Hospice, Rochester, Minnesota.
Rochester Cremation Services is assisting the family with arrangements. Memories and condolences of Ron may be shared at rochestercremationservicesmn.com