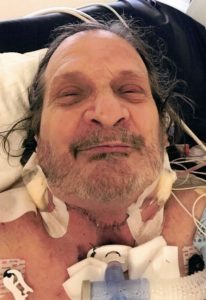 Ronald Clifford Raths, age 62, died Thursday, February 24 2022 surrounded by loved ones at Mayo Clinic Hospital, St Marys Campus after a courageous battle with vocal cord, voice box and lung cancer.
Ron was born on June 28, 1959 in Owatonna, MN to Howard and Ruby (Fick) Raths. He started school in Claremont, MN and continued his education in Zumbrota, MN when his family moved there 1965. He grew up on a farm and loved the outdoors his whole life. He loved fishing, hunting, and camping. He was passionate about cars, fixing things, football, baseball, NASCAR, family, and friends. Shortly after high school at the age of 19 due to a swimming accident he became quadriplegic. He was frustrated for several years after but chose to move forward with optimism and ambition to be something. He became a proud grandfather November 18, 2019 and again on June 9, 2021. Fulfilling his big dream of becoming a grandpa.
Ron is survived by his son, Trinity (Rebekah Grace); grandson, Emry Boyd; granddaughter, Maya Ruby; sister, Peggy (Bob) Tri; sister-in-law, Nancy; and nieces and nephews.
Ron is preceded in death by his parents, Howard and Ruby; and brother, Don.
A memorial service will be held at 11:00am on Saturday, March 12, 2022 at Our Savior's Lutheran Church, 1549 East Avenue, Zumbrota, MN. Pastor Eric Westlake will officiate.
Rochester Cremation Services is assisting the family with arrangements. Memories and condolences of Ron may be shared at rochestercremationservicesmn.com