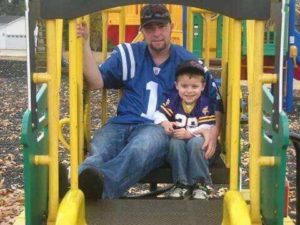 MATTHEW STEPHEN SMART, 37, passed away on Friday, November 5th, 2021 surrounded by family and friends who loved him.  He was born on December 8th, 1983 in Fort Pierce, Florida.
He is survived by his son, Adam Smart of Rochester and step-daughter, Evelyn Klobassa; his parents, Chad (Cindy) Campbell of Hammond, MN and Kelly Lee Smart/Grijalva (John) of Newbern, TN; step-mother, Julie Ferguson; brothers, Jesse (Raenell) Campbell of Hammond, MN, Justin (Kassie) Campbell of Grand Rapids, MN; Taylor White of Rochester, MN, Michael Smart of Conroe, TX; Brian Smart of Dyersburg, TN; sisters, Carolyn Smart of Dyersburg, TN; Amanda (Nathan Waletzko) Bauman of Pine Island, MN, Christine Campbell of Hammond, MN; his grandmother, Donna Wensch of Rochester, MN; grandfather, Max Campbell; and Kelly M. Foley, Adam & Evelyn's mother of Rochester, MN along with many nieces and nephews that adored him.
He is preceded in death by his grandfather, Robert Wensch; and grandmother, Jeanne Campbell
Matthew graduated from Plainview-Elgin-Millville High School in 2002.  Following graduation, he enlisted with the US Army Reserve in Wabasha, MN.   Matt worked in construction and property management for many years before opening up his own business, Smart Homes, LLC.   Matthew enjoyed spending time with his son, traveling, cooking, a committed Green party supporter and he always had the "eye" for fashion.   He was a fanatic of the super hero Superman and displayed many "Superman like" qualities.  He cherished his friends and family deeply and offered his support in ways that will always be remembered.  He was known for his witty, smart like ways and comments.   Matthew was always genuine, never anything else; he always spoke the truth!  He had hilarious commentary and was a very passionate man with a deep love for his son and others.
Visitation will be Thursday, November 18th, 2021 from 4:00 pm until 6:00 pm at Rochester Cremation Services in Rochester with a celebration to follow at Charlies Eatery & Pub in Rochester.  There will be a private graveside service on Friday, November 19th, 2021 at 1:00 pm.
In lieu of flowers, memorials can be directed to Adam Smart C/O Kelly Foley.
Rochester Cremation Services are in charge of arrangements. Memories and condolences of Matthew may be shared at rochestercremationservicesmn.com