Lori Ann Mack (Stevens), age 60, passed away peacefully on December 29, 2022, after a two-year courageous battle with ovarian cancer.
Lori was born on October 14, 1962, to Walter Stevens and Ruth Rice (Rosenthal) in Austin, MN. After Lori graduated high school in 1981, she went on to receive her English Education degree at UW LaCrosse in1985. Lori also received her Master of Science degree in Education at St. Mary's University of Minnesota in 1999.
Lori taught in the classroom for many years, and then decided she could make an even bigger impact by becoming a District Literacy Coach with the Rochester School District. Her enthusiasm and creativity will leave a lasting imprint on students and faculty.
She enjoyed going for weekend cruises with her husband, making beautiful cards for family and friends, and spending time with her four grandchildren.
She is survived by her loving husband, Shawn Mack of Rochester, MN; as well as her children, Kaylie (Justin) Post of Dodge Center, MN (children: Carter, Layla, and Piper), Sam Sutter of Miami, FL, Dan (Taylor) Mack of Belleville, IL (daughter, Camden), and Grace Mack of Rochester, MN; father, Walter (Sara) Stevens of Kasson, MN; sisters, Karen (Wayne) Nielsen of Hayfield, MN, and Tara Vernier of Bloomington, MN; several cousins, nieces, nephews and great nephews. Lori was preceded in death by her mother, Ruth Rice.
A visitation will be held from 3:00 – 5:00 pm on January 4, 2023, at Community Celebration Church in Kasson, MN, with a celebration of life and fellowship to follow.
The family would like to thank the Palliative Care Team at Mayo Clinic for their compassionate care during her stay. They would also like to thank their family and friends for their support and prayers, which made us feel loved during this difficult time.
In lieu of flowers, a donation to the Minnesota Ovarian Cancer Alliance (MOCA) is preferred.
Memories and condolences of Lori may be shared at rochestercremationservicesmn.com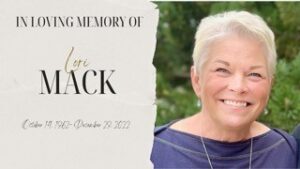 Link for the live stream service: