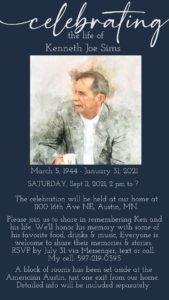 Kenneth J. Sims of Austin, MN passed away peacefully at his home, January 31, 2021, with his loving wife Mary at his side after a long illness.
Ken was born in Cheyenne, WY on March 5, 1944, to Theodore (Casey) and Gladys Sims and was the 5th sibling of nine children.  The family moved to the Davenport, IA area when he was in his early teens, and at age 17, Ken joined the US Navy where he served nine years with an honorable discharge in 1970.
Soon after Ken became a Federal Meat Inspector with the USDA.
On May 26, 1979, he married Mary Jean Sass in her hometown of Wabasha, MN. In 1983 they moved to Austin, MN, continuing his career with the USDA at Hormel Foods.  He started his own business, Ken's Home Repair in 1983 until 1995. He retired from the USDA in 1999.
He was a devoted husband, father, grandfather, brother, brother-in-law, uncle, and friend. His life was dedicated to Mary and their special needs son Gary. Through the years he enjoyed cooking for friend and family gatherings, gardening, woodworking, coin collecting, and playing around with inventions both quirky and practical. His family and friends admired him for his good common sense and sound advice. He was one who could be counted on, and he will be so missed by so many.
Ken is survived by his wife Mary, his children, Dale (Ann) from a previous marriage, Jennifer (Matt) Potocnik, and Gary. Five grandchildren, Skylar, Bridgette, Rachel, Ella, and Elliot, and two great-grandchildren Emma and Reagan. Siblings, Melvin, Betty, Charles, Glen, Sharon, Hazel, and Gary; nieces, nephews, and dear friends.
He is preceded in death by his parents and his brother Floyd.
There will be a Celebration of Life planned when it is safe for people to gather at our home in the backyard.
Our deepest gratitude goes to the Mayo Clinic Hospice of Albert Lea. To everyone who helped us through this time from Hospice staff, especially his nurse Jenny Ladwig, and his Social Worker Laura McKibbon. Thank you from the bottom of our hearts.
Rochester Cremation Services is assisting the family with arrangements. Memories and condolences of Ken may be shared at rochestercremationservicesmn.com