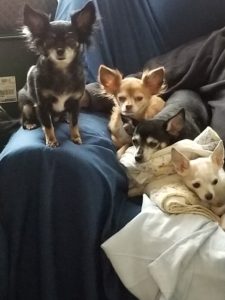 It is with profound sadness that the family of Greg Crane announce his passing on December 09, 2021, at the age of 53 He was born 06/26/1968 in Columbia, Missouri. Greg grew up in Missouri and moved to MN after his High School graduation.
While we were not at Mayo long, the caring and compassionate staff at Methodist Hospital-Mayo was kind, helping us though a shocking and confusing time.
Greg lived in North Minneapolis for the past 15 years, with his best friend Cindy Anderson, there they shared a house, four dogs and a victory garden. If you knew Greg, he would always tell stories about the dogs, the cute things, and not so cute things they did. They were spoiled, guess why that was? (Not naming names) but he would never admit to it. They brought him so much joy. He loved to garden, barbeque, and read under the gazebo with Dogs. He had a love of music, theater, camping and would have traveled more if he could have.
Greg did not have any grandchildren, but he cherished special moments with Cindy's Two Grandchildren, Johnnie, and Ellie, who affectionately called him Grandpa.
Greg is survived by: Luther Crane (Father), Cindy Anderson (friend) Susan Robinson (Tim), sister Shaw (Kelly) Crane, brother), Georgia Robinson, Alex Penrose (nieces), Axel Crane (nephew) and many cousins and friends.
Preceded in death by: Ruth (Parish) Crane, mother and Sierra Ridgeway Crane, niece.
A Tribute
To my Best Friend, you created a lifetime of memories and an abundance of smiles and laughter, being caring loving person to all, even some on the street you didn't know. You always gave of yourself
Your open heart and priority for your dad and friends, fills our hearts and minds with cherished memories.
You are and always will be a part of each of us forever.
You have touched our hearts and impacted our lives in ways you can never know.
We love you and celebrate your life, not your death, because that is exactly what you would have wanted.
A service in Missouri will be Friday, January 7, 2022.  Visitation 2pm, Celebration service at 3pm. First Assembly of God, 1100 N. 7th Street, Columbia, Missouri, 65021
A service in MN will be Saturday, January 29, 2022 at North Heights Lutheran Church, 1700 Highway 96 W, Arden Hills, MN, 55112. Visitation at 11:00 am, Celebration of Life at 12:00 pm. Luncheon to follow.
Please share Memories, condolences of Greg at rochestercremationservicesmn.com