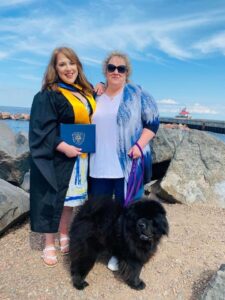 Dawn M. (Groos) Sexter, 61, of Owatonna, MN passed away in her loving home on July 12th, A celebration of life service will be held Sunday July 16th at 1pm at Rochester Cremation Services (1605 Civic Center Drive NW Rochester, MN 55901). For Dawn's friends and family residing near Sioux Falls, a second celebration of life service will be held in Sioux Falls, SD on July 23rd, 2023 at 4pm at Grace Lutheran Church (3300 E 18th St Sioux Falls, SD 57103).
As the eldest child, Dawn graced this world with her presence on December 25th, 1961 in Sioux Falls to Dean and LeNita Groos. As a beloved Christmas child, Dean and LeNita gifted their daughter Dawn with two rambunctious brothers, Lyle and Darin. As a high-school senior, the family moved to Owatonna, Minnesota for Dean's career change.
Dawn's childhood was filled with outdoor adventures, fishing, and camping. While in high school, Dawn enjoyed competing on the varsity basketball team and playing the clarinet in band and marching band. She adored her pet poodle, Scooter, and loved spending any time she could with horses. Dawn particularly enjoyed spending eventful evenings out in the horse pastures with friends, where she would eventually leave her mark on her father's new dodge pickup; smashing in the gas tank, denting the cab roof, and knocking off the brand new bumpers. The other details of that story shall forever remain in those sacred pastures.
Dawn continued her culinary work in Owatonna and was proud to source the meals for countless residents that came through her doors. Dawn's work ethic was unrivaled; she worked with her mind and whole heart to care for those around her.
While Dawn continued working in Owatonna, she met and fell in love with the lucky Mark Sexter. On July 31st, 1993, in front of family and loved ones, Dawn and Mark dedicated themselves to each other and have been happily married since. kept Owatonna as their home and with family it continued to grow. A significant growth occurred in October 1993 with the birth of their daughter, Audrey Sexter.
Dawn cherished every single moment that could be spent with family, especially around the holidays when she got to treat everyone to her infamous Christina's goodies. She dedicated her life to her family and helping animals as much as she could. Her bleeding heart for the world's furry creatures and those without a voice was unmatched; she was truly a warrior in more ways than one. Dawn's passion for animals carried into her home; she welcomed Simoyan dogs and cared for eight chow chows during her life.
Dawn is survived by her husband Mark Sexter. Her daughter Audrey Sexter (Scott Stone). Her parents Dean and LeNita Groos. Her brothers Lyle Groos and Darin (Karmen) Groos. She is also survived by many loving aunts, uncles, cousins, nieces and nephews.
To send flowers, you may order from wherever you wish and send to either venues for thecelebration of life of ceremonies.
Memorial donations may be made to B-Squad Dog Rescue (www.bsquaddogrescue.com), Sioux Falls animal shelter (https://www.sfhumanesociety.com), or any of your local non-profit animal shelters.
Rochester Cremation Services is honored to serve the family. Memories and condolences of Dawn may be shared at rochestercremationservicesmn.com
A note from Audrey:
Momma, there are no words. You were my rock and my best friend- you will continue to be my rock. You did so much for me and you worked so incredibly hard, I don't know what I did to deserve such a wonderful, strong, passionate and deeply compassionate mother like you. I was so lucky; I am so lucky. Without fail, you were there for me and knew exactly what to say that would calm me down. Your hugs possessed a mystical force that I will forever cherish. I'm utterly wrecked and I have no idea as to how I will continue, but I can hear you saying that you would expect me to get right back up and continue on. So I will slowly put one foot in front of the other, in an effort to make you so, incredibly, proud. Scott and I will ensure that our future children WILL know their grandma Dawn. I will consider it a success if I can manage to be even half the amazing mother that you were. I love you, momma, and you will forever be my sunshine.
Love,
Pumpkin