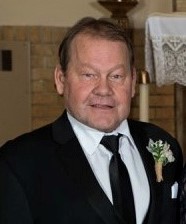 Bruce Peder Johnson, age 60, unexpectedly passed away on April 10th in his home in Rochester Minnesota.
Bruce was born to Peder and Marcella on July 20th 1961 in Rochester, MN.
Bruce is survived by his children: Justin (Courtney) Johnson, Nathan (Jenna) Johnson, and Logan Johnson whom he had with his former wife, Stacy Peshon. Bruce is also survived by his mother Marcella Johnson of Rochester, Minnesota and his two brothers Mark Johnson of Rochester, Minnesota, father of Shane Johnson, and Todd (Barb) Johnson of Bessemer, Michigan, parents of Connor and Drew Johnson. Bruce was the grandfather of Justin's daughter Lila and was looking forward to two more twin girls coming soon.
Bruce graduated from Mayo High School in 1979 and pursued his passion in the meat industry working for companies such as Ye Olde Butcher Shoppe, Rochester Meats, JNR, and others. Bruce was an avid golfer and fisherman who enjoyed frequent trips up north with his friends and family. He was a member of The Church of the Savior in Rochester, MN.
Bruce is preceded in Death by his father Peder Johnson.
The celebration of Bruce's life will occur on Saturday, April 16th, 2022 at Rochester Cremation Services, 1605 Civic Center Drive NW, Rochester, with the visitation from 9:00 – 11:00 A.M. and a memorial service held from 11:00 A.M. – 12:00 P.M. Father Nick Mezacapa will be officiating. After the service there will be food and refreshments. (catered by Ye Olde Butcher Shoppe)
Rochester Cremation Services is assisting the family with arrangements. Memories and condolences of Bruce may be shared at rochestercremationservicesmn.com