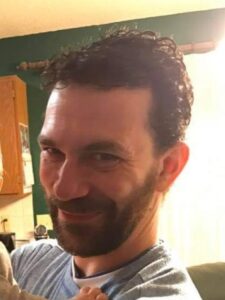 Tom Daniel McElroy, 44, passed away April 14, 2023. Tom was born April 12, 1979 in Rochester, MN. He attended John Marshall High School and later attended the University of Minnesota to pursue a degree in English with aspirations in becoming a professor. Tom liked to write but his real passion was for books, being his most precious of possessions. He also loved being around dogs, once training service dogs. Tom was a lifelong hockey fan. He and his family attended many Golden Gopher games and also played himself, starting when he was young and continued to play in adult leagues. He also enjoyed being outdoors and loved playing with his niece and nephew who adored him just as much as he adored them. He will be missed by many.
Tom is survived by his parents Dan and Candace McElroy, sister Tracy (Paul) Tschumper and their children October and Jack, girlfriend Kim and best friend Nolan.
Tom was preceded in death by his grandparents Ken and Phyllis McElroy, Dick and Jean Niedfeldt and his uncle Tom McElroy.
A Mass of Christian Burial will be held Saturday April 29th at 11am at Church of the Resurrection in Rochester, with Rev. Peter Schuster officiating. Visitation will be one hour prior to the service at the church and a lunch following mass.