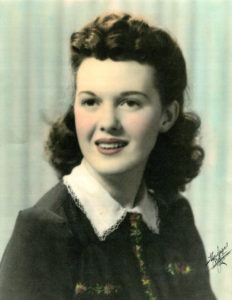 Thelma Barker died at Chosen Valley Care Center on Friday, August 27th. She was 97.
Thelma (McIntyre) was born August 22, 1924 in Winnipeg, Manitoba, Canada to Mary (MacDonald) and William McIntyre.  She was the second youngest of 6 siblings.
She married Robert W. Barker on May 1, 1947.  They moved to Florida and California before deciding that Minnesota's school systems were a good place to raise their family, as well as be closer to family in Canada. When Bob passed away in 2001, they had been married for 54 years.
Thelma was a wonderful baker and gardener.  Reading poetry was a favorite pastime.  She loved helping people.  In her retirement years she worked or volunteered as a home aid for shut-ins, hospital auxiliaries, day care centers and Meals on Wheels.
Thelma and Bob settled in the suburbs of Minneapolis and then Waverly, Minnesota to raise their family.  In later years, tired of the cold winters, they decided Missouri was the state for them.  They spent many happy hours on the road, traveling to historic sites and places of scenic beauty.
Preceding her in death are her husband, Bob and 5 siblings.
She is survived by her 5 children: Karen (Ken) Borrell of Waverly, MN. Maureen Johnson, Rochester, MN; Lance (Penny) Barker of Burnsville, MN.  Patricia (Karl) Knudsen of Rock Island, IL; Grant (Judy Holmen) Barker of Zimmerman, MN; 7 Grandchildren and 10 Great-Grandchildren; also 3 nephews and 1 niece.
A private ceremony will be held at a later date in Waverly.
The family would like to thank the loving staff at Chosen Valley Assisted Living and Care Center in Chatfield as well as the wonderful folks of Season's Hospice.
Memories and condolences of Thelma may be shared at rochestercremationservicesmn.com.