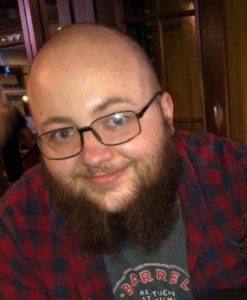 Rayce Daniel Tapp, 26, of Nashua, Iowa, died May 25, 2022, at Methodist Hospital in Rochester, Minnesota, following many courageous battles starting with acute myeloid leukemia.
Rayce was born June 29, 1995, in Austin, Minnesota, to Patrick and Stacy Tapp. He graduated from Nashua-Plainfield High School in 2013. Following graduation, he worked for Kwik Star in Nashua and Denver, Iowa, before finding his skill as a CNC machinist at the former HyPro plant in Cedar Falls, Iowa.
His path took a devastating turn in January 2019, when he went to the doctor for what he thought was a lingering cold/flu and was diagnosed with leukemia. Rayce underwent chemo and radiation therapy followed by a bone marrow transplant. He then suffered from graft-versus-host disease (GVHD), which led to years of health struggles. His advice to all was to see a doctor when your friends and family urge you to go, because cold medicine does not fight leukemia.
Anyone who knew Rayce, quickly discovered he was a bright and social young man with a kind heart. His light will be missed by all who had a chance to experience his kindness and compassion.
Rayce is survived by his parents, Stacy Tapp of rural Zumbro Falls, Minnesota, and Patrick and Connie Tapp of Nashua, Iowa; his grandparents James (Janet) Tapp of Winona, Minnesota; his sisters, Courtney (Allison) Anderson of Altoona, Iowa; Alicia (Nathan McCann) Tapp of Stewartville, Minnesota;  and Erin (Brian) Claeys of Iowa City, Iowa;  5 nieces; and a nephew (due in October); special Great Uncle Bill; aunts, uncles, and cousins; and the Great Eight.
Rayce is preceded in death by his grandparents, Margaret Tapp, Dennis Schwerdtfeger, and Mary Lou Hanson.
Minnesota: Tree Planting Tribute Garden/Celebration of Life will be held on Sunday, June 5th starting at 11 a.m. at his mom's. This celebration of Rayce's life will be an informal gathering of friends and family. His friends and family are welcome to come throughout the day as schedules allow. In lieu of flowers family suggests bringing items to add to the garden or donations may be given to The Leukemia and Lymphoma Society in Rayce's name.
Iowa: Potluck for Rayce will be on Sunday, June 19, 2022 at Cedar View Park (upper west pavilion) in Nashua, IA from 12-4pm for Rayce's friends and family. This was one of Rayce's final requests that he wanted "Good food, Good friends, and Good memories". The burgers, brats, and potato salad are being generously donated by some of his boating friends! So, the potluck part is bring a dish, dessert, or drink to share. Bottled water, soda, plates, and silverware will be provided.
Rochester Cremation Services is assisting the family with arrangements. Memories and condolences of Rayce may be shared at rochestercremationservicesmn.com