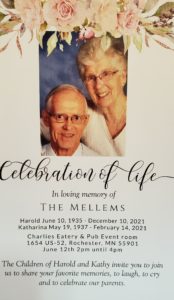 Harold was born June 10, 1935 in Northwood, Iowa to Harold and Mabel Mellem.
He was a devoted husband of 62 years to Katharina Ursula Mellem, Harold and Katharina met in Germany where he was stationed with the US Army 761St Med Det. APO 164. They were married in Heidelberg, Germany on June 12, 1959.  In 1962 they moved to Rochester where Harold held multiple jobs before settling in for 25+ years with the US Postal Service. Harold and Katharina raised 3 children in Rochester, Carla, Annette and Eric. They  were members of Redeemer Lutheran Church and the Sons of Norway.
Harold was always tinkering or fixing something around the house or on a vehicle.  After retiring from the Post Office he drove the Schweigert meat truck with his good friend Gerhardt Poch. Harold enjoyed singing as a member of the Redeemer choir and the Young at Heart singers. He enjoyed traveling, jogging and reading the newspaper.   Harold could also regularly be found mowing lawns or doing some work on his pride and joy, an almost fully restored 1939 Chrysler Royale, he gathered pieces and parts from all around the country.
Harold is preceded in death by his parents his 2 sisters Carol and JoAnn, a great grandson and earlier this year his wife Katharina.
Harold is survived by children Carla (Joel) DesLauriers of Rochester, MN, Annette (Jack) Pudwill of Dodge Center, MN and Eric (Nikita) Mellem of Castle Rock, CO his sister Betty of Hastings, NE 8 grandchildren; 20 great grandchildren and 1 great great granddaughter.   Along with many nieces, nephews and cousins.
The family would like to thank the staff at the Benedict Home memory care facility of Madonna Towers and Seasons Hospice for their care and compassion.
Harold requested to be cremated, his ashes will be interred at the Minnesota State Veterans Cemetery in Preston, MN.
Alzheimer's and Dementia took both Harold and Katharina away from us and the family wishes any donations be made in their name at
Https:// act.alz.org/site/TR?pg=fund&fr_id=1060&pxfid=669307&__FB_PRIVATE_TRACKING__=%7B%22loggedout_browser_id%22%3A%22e567128d9b0b8c0a0e9c7578b273043e27dc2f0f%22%7D&fbclid=IwAR2qRrz2-it4jsybwKL5qtpElEmIkdb-nXH37kVKx2L7YxlUpOhbbDEjVUg7
Cards maybe sent the The Mellem family at 1002 13th AVE NW Rochester MN 55901
Rochester Cremation Services is assisting the family with arrangements. Memories and condolences of Harold may be shared at rochestercremationservicesmn.com
A Memorial/Celebration of life for both Kathy and Harold is being planned for June 12th on what would have been their 63rd Wedding anniversary.